Olds Family Genealogical Notes
Darling Family of America
Darling Family Genealogical Notes

Van Buskirk News
Stephan Donovan, a fellow Van Buskirk descendent started producing an Online Newsletter in 2009 exclusivley for anyone interested in the Van Buskirk family history. I've included the 1st issue of the Van Buskirk News from June of 2009 as a sample. If you are interested in joining the distribution list, email Stephan. His email address is on the front page of the newsletter.
You need a version of Acrobat Reader to be able to open the file that is in PDF Format.


Click on the Van Buskirk News link above.


The story of Elizabeth Lewis Blachford , also known as Liza Tower-Hill, the reputed witch of Barnstable, Massachusetts

Elizabeth is my 6th Great Grand Aunt.
Our Families Settling of the Lower Maumee River Basin ~ The Beginnings of Wood County, Ohio
William Race & Others
Bowling Green, Ohio - *My* Hometown
"Bowling Green is to-day brightest star in the beautiful constellation of cities of the great Northwest. Of the glittering gems that send forth their sparkling rays from the crown of the queen of this domain, she is one of the most brilliant. Wood county is one of the largest, wealthiest and most populous counties in Ohio. It is the garden spot of the world, and Bowling Green is the county seat."
C.S. Van Tassel
The Beautiful "Crystal City," 1895.
Please visit.... Bowling Green, The Crystal City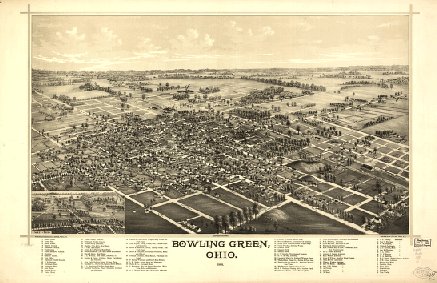 Panoramic 1888 Bird's-eye view of Bowling Green, Ohio
The panoramic map was a popular cartographic form used to depict U.S. and Canadian cities and towns during the late nineteenth and early twentieth centuries. Known also as bird's-eye views, perspective maps, and aero views, panoramic maps are nonphotographic representations of cities portrayed as if viewed from above at an oblique angle. Although not generally drawn to scale, they show street patterns, individual buildings, and major landscape features in perspective.
To be able to view the image of the bird's-eye view of Bowling Green I am going to have to direct you away from this website to the website for the Library of Congress Panoramic Maps Collection. Once there, you can either view the Panoramic Map of Bowling Green or download the map to your computer to view at your leisure. I will say this, it is much easier to navigate around the map if you download it. You aren't limited to the small window size of the image like you are on the Library of Congress website. To download the map you will also need to download a software program known as MrSID made available through the Library of Congress. It is well worth the effort!!! You will be able to ZOOM right in on any part of the image you want. It's pretty neat.


Visit Our Family Tree On Ancestry.com
The information I gather for our Family Tree is constantly changing. As much as I try, it is hard to keep the tree that is on this website up to date. The up-to-date version of our Family Tree is online at www.Ancestry.com. With the resources I have available to me at Ancestry.com, I have been able to do a much more thorough documentation of our family lineage. If you are a relative I know and if you are not a member of Ancestry.com all you have to do is let me know and I can invite you to view our family tree through email. You will need to sign up for a free membership once I invite you.

A Heartfelt Thank You..
It would be impossible to thank all the people who like myself, have been researching our families lineages and have shared information making it possible to be able to put together this website. My Aunt Olive, Olive (Lewis) Todd. Aunt Olive has shared pictures with me and gave me enough information that I was able to do all of this. Without her memories, I would never have known where to begin on our Lewis family. Thank you Shirley Dunn and Gary Russell for helping me over one of my hurdles. Both Gary and Shirley are distant cousins from the Van Buskirk family. The same to Harry Biesecker from Gibson, PA for taking the time to go to the Gibson Cemetery and taking pictures of tombstones of family members for me. Also, Kate Johnson who helped steer me in the right direction on my Criswell line. Another shout out and thank you goes to Jim Snow who traveled around ceneteries in Edgerton, Ohio to take pictures of several family tombstones for me... I also have to thank my Uncle Stan and cousins, Marlene (Brown) Turner and Myrna Criswell for sharing pictures with me. The pictures mean so much to me. Most importantly, none of this would have been possible without Hank Priebe, the love of my life. Thanks for processing my pictures, cleaning up my images, retreiving what I've lost and etc., etc., etc.....